having frequented almost as many used book shops as churchs, we have been reading alot on our trip. the last 2 books i have read have been 2 of my favourites and i wanted to recommend them.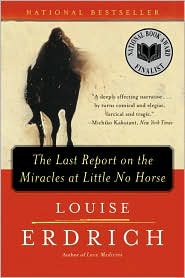 "the last report on the miracles at little no horse" by louise erdrich is a fantastic book about a priest working with the ojibwe indians in north dakota in the 1900s. it is slightly fanciful with arresting language and provides a beautiful take on the plight of the american natives from 2 different religious viewpoints.
"picture this" by joseph heller is a dizzying ride through history focusing on the philosophers of ancient athens and rembrandt in 17th century holland but secretly about the US and the world in the 80's (and today i imagine). joseph heller is the author of another book i enjoyed which has transcended its novellic past and become a part of the english language. i will not mention its name b/c i am sure heller is sick of having all his other books compared to it. this novel is full of logical labyrinths, repetitiously reflective ideas, catch 22s (oops) and startling juxtapositions. it makes my mind dance (in a good way mom). i highly recommend it as a philosophy and history lesson, as well as a way to make you think and laugh out loud.
finally, i would like to share some pictures of graffiti on the wall surrounding the west bank. kylie and i returned there on saturday to visit our new friends and see the place where jesus was born when it was less crowded. we were once again astounded at the level of hospitality and friendliness we were shown.
first, the official israeli govt wall art: